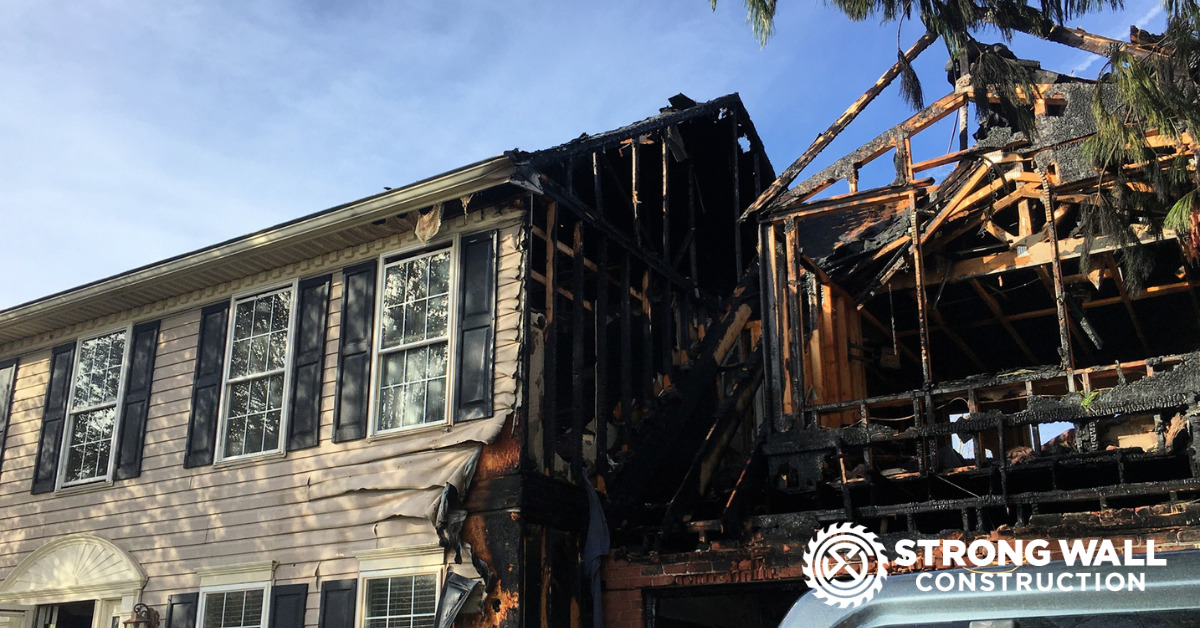 Remodel vs. Rebuild: Making the Right Choice for Your Fire-Damaged House
Facing a fire-damaged house is one of the most traumatic experiences a homeowner can endure. It's not just about the walls, the roof, or the belongings – it's about the memories and dreams seemingly reduced to ashes. Amid the aftermath, you're likely asking yourself, Is it better to rebuild or remodel after house fire?
In these challenging times, Strong Wall Construction stands beside you. Our commitment is to offer clarity, expertise, and unwavering support as you navigate this critical choice. The following guide draws on our experience and will help you understand the remodeling vs. rebuilding decision and how it aligns with your vision of the future.
If Your House Burns Down, Do You Have to Rebuild?
This question, "If your house burns down, do you have to rebuild," lingers in the minds of many worried about or dealing with a fire-damaged house. The straightforward answer? No, you don't. You have more than one option here. 
For instance, some homeowners might choose to relocate using the insurance payout. The amount you receive from insurance depends on your policy.
However, the choice ultimately comes down to how much evidence you can provide in favor of remodeling vs rebuilding.
Insurance's Role in the Decision
You're not alone when dealing with a fire-damaged house. While insurance companies aim for cost-saving, it's important to remember your shared goal: restoring or replacing your home to your satisfaction.
However, the insurer is concerned with achieving this goal economically. Speed and efficiency are critical, especially when the cost of reconstructing the house surpasses the cost of replacement.
Your Role in the Decision
While the insurance company plays a significant role in determining the path forward, you, as the homeowner, also influence the decision between remodeling vs. rebuilding.
One of the most important actions you can take when dealing with a fire-damaged house is to document the damage. This documentation acts as evidence, tipping the scales in favor of the decision that is in your best interest. Here are some tips on documenting damage:
Before any cleanup or temporary fixes, photograph every affected area of your home, using multiple angles to capture the full extent of the damage. Videos can also be helpful as they provide a walkthrough of affected areas.
Create a Detailed Inventory
List all damaged items, including furniture, electronics, and personal belongings. Note the brand, model, and approximate purchase date. Include receipts or proof of purchase if possible.
Find professionals who can assess your home's structural integrity and overall safety. At Strong Wall Construction, we help the people we work with by providing insights to support the case for remodeling or rebuilding. 
In addition to these tips, we also have a fire damage restoration checklist for rebuilding your home. Remember, the outcome often depends on who presents the most compelling evidence. 
While insurance companies might rely on the policy to determine their stance, your thorough documentation and legal or adjustor support can steer the decision in a direction that serves your best interests. 
Understand the Cost of Remodeling vs Rebuilding
A vital aspect of your decision lies in understanding your homeowner's insurance – specifically, replacement cost value (RCV) and actual cash value (ACV).
Replacement Cost Value (RCV)
RCV compensates you based on the precise amount it'd take to either replace or repair your home, mirroring the quality of your original home. Depreciation isn't a factor here – you're looking at the cost of brand-new materials, guaranteeing a comprehensive rebuilding process.
Opting for an RVC plan with your homeowner's insurance often comes with a higher premium. It offers the benefit of superior compensation in the event of a loss.
Actual Cash Values (ACV)
On the other hand, ACV evaluates the worth of your home just before the damage occurs. It's equivalent to considering the amount a potential buyer would offer for your property. Some policies might have their own definitions, sometimes presenting ACV as RCV minus depreciation.
Your home's ACV will never exceed its RCV. While both consider the home's value, ACV accounts for the depreciation of your home and its materials.
Thus, your coverage, ACV or RCV, can significantly influence your decision to remodel vs rebuild. If you have ACV, you may receive less than required to restore your home fully. 
Having an RCV plan means you could afford a more comprehensive restoration. The type of coverage you hold might restrict or enhance your options, making it essential to thoroughly review your policy and consult professionals when faced with the dilemma of remodeling vs. rebuilding.
Remodeling vs. Rebuilding with Strong Wall Construction
Dealing with the aftermath of a fire is filled with emotion, tough decisions, and an overwhelming sense of navigating the unknown. The question of remodeling vs. rebuilding is more than bricks and mortar – it's about regaining stability and reviving cherished memories. At Strong Wall Construction, we aren't just another contractor; we are your partners in rebuilding your home and life.
Recognizing the weight of the situation, we believe that no homeowner should carry the burden of restoration alone. We help homeowners navigate the complexities of rebuilding a house after a fire. Our mission is to stand by you every step of the way, alleviate stress, and provide expert guidance from the initial free inspection till the day you walk back into your newly restored home.
With over 75 years of combined insurance, restoration, and remodeling experience, we are dedicated to customer care and committed to quality work and transparent pricing. Proudly serving the greater Baltimore area, we are only a phone call away – talk to an expert today.