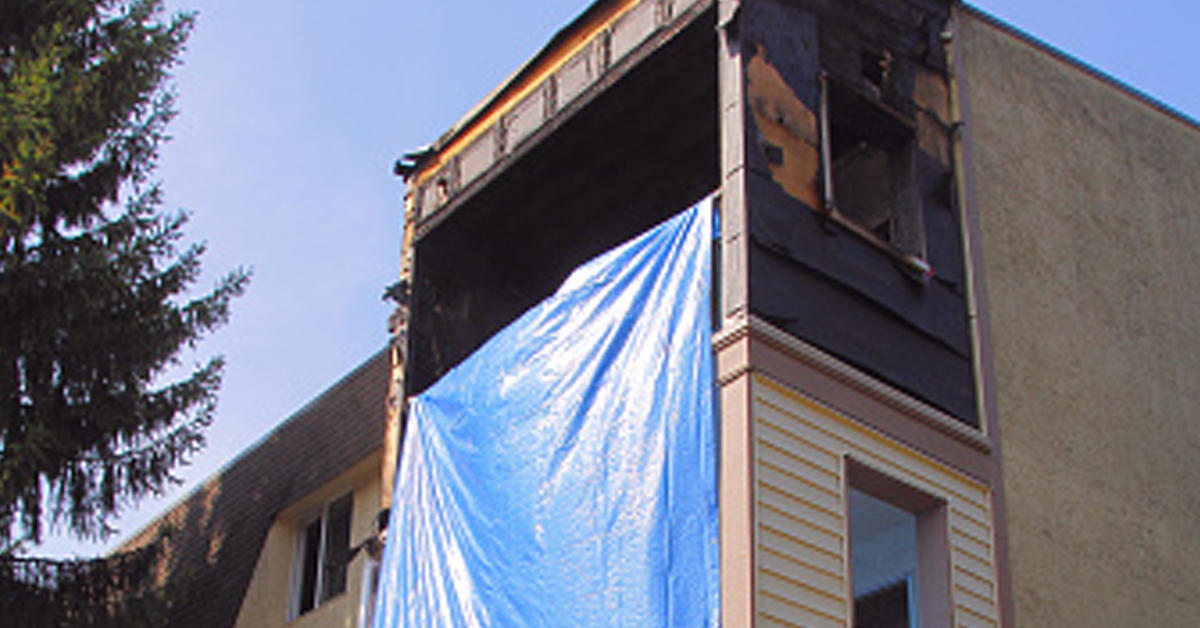 10 Step Fire Damage Restoration Checklist for Rebuilding Your Home
When a fire destroys your home, it leaves you with an overwhelming sense of devastation, uncertainty, and the daunting task of rebuilding. At Strong Wall Construction, we understand what you're going through. We've helped many in your situation rebuild their homes and lives, and using our experience, we've made a 10-step fire damage restoration checklist to help you rebuild your home. 
With our knowledge and expertise, we hope this checklist helps guide you through the process and supports you as you turn your house back into a cherished home. 
If your house burns down, do you have to rebuild?
The decision to rebuild depends on factors like the extent of fire damage and your personal choice. Rebuilding a house after a fire involves time and effort, and you must consider many factors – we'll cover some of them in the checklist below.
The time it takes to rebuild varies based on the work needed. Consulting professionals for fire damage restoration and considering fire prevention and protection measures can help you move forward in this challenging time.
Cost to Rebuild a House Calculator
Understanding the cost to rebuild is essential when recovering from fire damage because it allows you to plan and budget for the fire restoration process effectively. This free tool can help you figure out the cost of rebuilding your home. 
It's also helpful when buying homeowners' insurance to make sure your home isn't undervalued or underinsured. By accurately assessing the cost to rebuild, you can gain peace of mind knowing you have the right coverage to rebuild your home.
Fire Damage Restoration Checklist
Rebuilding after a house fire isn't only about restoring your home – it's also about ensuring the safety and well-being of your loved ones. As you go through this checklist, remember that it's essential to follow industry standards, implement fire safety measures, and work with professionals who hold relevant certifications.
Along with finding licensed, bonded, and insured professionals, look for experts certified by the IICRC (Institute of Inspection Cleaning and Restoration Certificate), a member of the American National Standards Institute (ANSI). 
We're certified by the IICRC at Strong Wall, meaning we've undergone training and demonstrated expertise in inspection, cleaning, and restoration. Professionals with this certification have proved they can provide high-quality services.
1. Call Your Insurance Company
After a house fire, contact your insurance company right away. They will help you with the claims process and cover fire damage costs. Act quickly to start the restoration process and receive the support you need.
Some fire damage restoration companies will work directly with your insurance company to determine budgets and estimates. For instance, at Strong Wall Construction, we coordinate with insurance companies to relieve some of the stress involved in the rebuilding process.
2. Hire Specialized Companies
Look for experts who deal with fire restoration, water and moisture removal, and structural evaluation. They will have the ability to handle the specific challenges caused by fires and can help restore your home.
3. Secure the Property
Following a fire, protecting your property from further damage is essential. Board up windows and doors, put up temporary fences, and take steps to secure your belongings. By doing so, you can help ensure the fire damage restoration process goes smoothly.
4. Evaluate Structural Integrity
One of the experts you hire needs to be a structural engineer. A structural engineer will check your house after a fire and make sure it's safe to live in. 
They will examine your home's foundation, walls, and other areas to see what repairs or reinforcements are needed. This evaluation is crucial to ensuring your home is structurally sound. 
5. Remove Water and Moisture
When firefighters put out a fire, water can cause additional damage. You need to address any water and moisture issues promptly to prevent problems like mold growth. If you are dealing with mold, we also have tips for mold prevention and restoration.
Experts in water and moisture removal can help by removing standing water, drying the affected areas, and using specialized tools to find hidden moisture.
6. Eliminate Smoke Odor
The smell of smoke can stick around long after a fire is put out. You can hire professionals who specialize in smoke odor removal. They use techniques like ozone treatment, thermal fogging, and air scrubbing to effectively remove the smell of smoke from your house and belongings.
7. Use Appropriate Protective Gear
Keeping safety in mind while restoring your house after a fire is essential. Ensure everyone involved in the process wears the proper protective gear, such as masks, goggles, and protective clothing. Doing so helps keep everyone safe from potential hazards during the fire damage restoration work. 
8. Safety Equipment List
As you rebuild, creating a list of safety equipment you need is a good idea. You can consult with fire safety experts to determine what equipment is necessary, such as the following:
Fire extinguishers

Smoke detectors

Carbon monoxide detectors

Fire resistant materials
These safety features will help prevent future fires, keeping your home and loved ones safe.
9. Implement Fire Prevention and Protection
Along with safety equipment, you can take additional steps to prevent future fires. These methods might include upgrading electrical systems, installing fire sprinklers, and creating clear evacuation plans. You can read this blog for our top 10 tips for home fire prevention and find more fire safety tips here.
Implementing fire prevention and protection will ensure your house has the necessary precautions to minimize the risk of fires in the future.
10. Document the Process
While restoring your home after a fire, keeping track of everything is important. Take pictures, keep invoices and receipts, and record any interactions with insurance companies and contractors.
This documentation will help file insurance claims, track expenses, and provide evidence if necessary. Keeping records will also give you peace of mind as you go through the restoration process and work towards returning your house to normal.
Fire Damage Restoration with Strong Wall Construction
At Strong Wall Construction, we understand the impact of fire, smoke, and water damage on homeowners like you. We aim to provide a simple and effective solution for fire damage restoration, ensuring the process is as smooth as possible.
As a trusted fire damage restoration provider in Maryland, we're committed to taking care of you and your family. We promptly respond to fire damage restoration needs and guide you through the entire process, providing professional support every step of the way.
From securing your property to providing detailed estimates and guiding you through the rebuild, we're here to restore your home and provide peace of mind. Talk to an expert today and take the first step towards rebuilding your life and home.