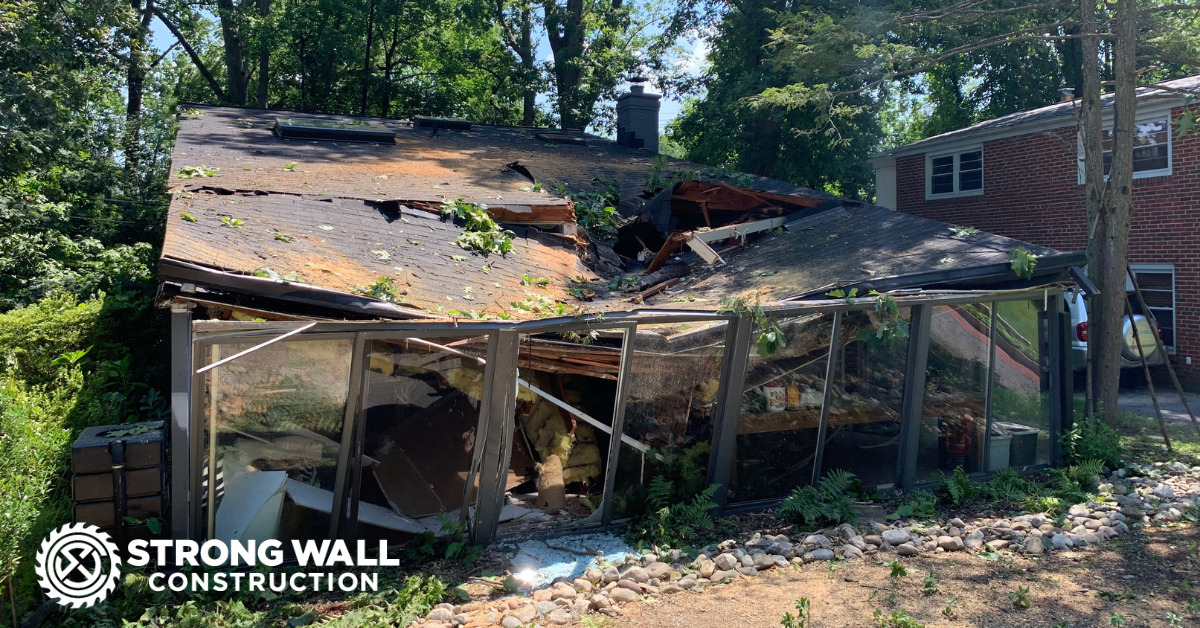 Home Restoration 101 – A Guide to Emergency Restoration Services
It's not easy when your home is damaged. Figuring out what to do next can feel impossible. 
We understand and hope this blog will provide you with greater clarity. We'll answer some big questions that we get from people starting the home restoration process. 
We'll also cover what happens when you need emergency restoration services and explain the steps we take at Strong Wall Construction to fix your home. We hope this information serves as a foundation of knowledge and provides peace of mind during a difficult time.
Answering Questions You Might Have About Home Restoration
At Strong Wall Construction, we've encountered many questions that span from the intricate details of our restoration process to how we work with insurance companies. With a dedication to transparency and clarity, we've compiled a section of frequently asked questions to help you understand the process of emergency restoration services.
Do home restoration companies work with my insurance?
Strong Wall Construction actively works with your insurance during the entire home restoration process to guarantee a seamless and stress-free experience. While many restoration companies coordinate with insurance, the depth and extent of collaboration differ.
Who is my point of contact during home restoration? How do they communicate updates?
You will have one dedicated point of contact at Strong Wall Construction throughout your home restoration. This person will update you through your preferred communication method: calls, emails, or in-person meetings. Other companies have varied communication practices.
Can I customize my home restoration with design choices?
Yes, with Strong Wall Construction, you're encouraged to be actively involved in designing your restored home. We facilitate this through guided showroom visits and professional design assistance. However, customization options can differ among home restoration companies.
Our Emergency Restoration Process
Navigating through emergency restoration services can seem overwhelming, especially when dealing with the aftermath of damage to your home. But at Strong Wall Construction, we strive to flip the script. 
Our process is straightforward and built with your ease in mind. While other home restoration companies may have different approaches, our method is uniquely shaped by a dedication to clear communication, transparent practices, and genuine care for your peace of mind. 
While you focus on what matters most, we handle the heavy lifting of restoring your home with minimal stress and maximal efficiency.
1. Responding to Your Emergency Restoration Needs
When you experience damage and need home restoration, your journey towards rebuilding begins with a simple phone call to Strong Wall Construction. Our responsive team immediately sets into action, guaranteeing that your initial encounter with us is reassuring and solution-oriented.
2. Complimentary Damage Inspection by Home Restoration Experts
When you reach out, we promptly schedule a comprehensive inspection of the damages. Our home restoration experts meticulously assess the extent of the damage, taking immediate steps to mitigate further damage while providing you with a clear and transparent estimate.
3. Working with Insurance Companies
Post-inspection, our emergency restoration team actively engages with your insurance company, handling all the details of claims and budgeting. We aim to alleviate your stress by ensuring the insurance process is smooth, transparent, and aligned with the restoration requirements.
4. Enjoy a Personalized Home Restoration Design Experience
Next, we invite you to our design showroom, where your visions for your restored home become our blueprint. Our professional design team guides you through selecting colors, materials, and layouts, guaranteeing your home isn't just restored but refreshed according to your tastes and preferences.
5. Experience an Efficient Rebuild 
At Strong Wall Construction, the actual rebuilding of your home is a crucial step in our emergency restoration services. We deeply understand that your home is more than walls and a roof—it's where life happens.

Our team is meticulously organized to ensure the rebuilding process causes minimal disruption to your daily life. Your dedicated point of contact will keep you informed with regular updates, ensuring clear communication on time frames, progress, and necessary adjustments throughout the entire process.
6. Settle into Your Restored Home 
Your journey ends with you stepping into a beautiful, restored home. We ensure every detail aligns with your expectations, and we're only satisfied when you are.
We're Here to Help with Your Home Restoration Needs
Choosing a company for emergency restoration services is pivotal, and we're happy to partner in these trying times. Bringing more than 75 years of insurance, restoration, and remodeling experience to the table, our team is skilled and deeply empathetic. We prioritize making sure you feel heard and supported throughout the process. 
Serving the greater Baltimore Metropolitan area, our local, licensed, bonded, and insured experts prioritize your comfort and satisfaction, working tirelessly to restore not just your home but peace of mind, too. If you need immediate assistance, give us a call. You can also submit your information and talk to an expert today.